PARKROYAL on Beach Road Day Stay
Since I wrote about ParkRoyal Collection at Pickering Road, I thought I would follow up with a quick blog post on the day stay at PARKROYAL on Beach Road.
Located at Beach Road, it is near to many good food places which is a very attractive point to this home grown boy who grew up at this area.
Read about my stay at the ParkRoyal Collection at Pickering Road
Or my stay post Covid at ParkRoyal on Kitchener Road where I was upgraded to a Executive King Suite.
But major constructions are now in place at this area with new condos building. Now it has become just another area where many new buildings are (including the amazing Andaz hotel. Read about the AMAZING studio suite here and the day stay here).
PARKROYAL on Beach Road Day Stay Cost
The day stay at ParkRoyal on Beach Road is considerably cheaper than other hotels. The lead in room is the superior room and is only $115.20. I do see a slightly more expensive option for Deluxe Room which is still very good price.
The same great benefits are available actually in both hotels, with small differences like the Complimentary Afternoon Tea.
Just like the ParkRoyal at Pickering Road, the stay is for 11 hours and comes with free parking. The ParkRoyal at Pickering Road does give a $30 dining credit which brings down the price for the much newer and nicer hotel.
Otherwise, most of the benefits are the same.
Cancellation of Day Stays
One thing I did not mentioned about for the ParkRoyal at Pickering Road and now at the Beach Road, is the cancellation policy. The cancellation policy here is 48 hours prior to arrival. Which is not bad.
Compared that to Marriott hotels (both the Tang Plaza and the Vagabond), which have gone too much stricter now in April 2021. Day Stay rooms at the Marriott hotels such as Tang Plaza and Vagabond are now non-refundable 24 hours AFTER booking (that's new to me..). I highlighted the word "now" as it used to so so so much flexible .. you can cancel the night before previously. I did that a few times when it was clear that I don't need the room. Now you cannot. Once you booked, you must cancel within 24 hours.
To be honest, the Marriott hotels' day stay have gone through so much changes (prices, restrictions etc) that it has not become very attractive anymore. Tang Plaza is nice but the changes in prices and the restrictions make it harder for me to choose it as a day stay (although they always made an effort to recognise my Platinum Marriott status). The Vagabond is similarly restrictive but you cannot beat the price.
The Hilton Hotel is still the best in terms of cancellation. You can still cancel Hilton Day Stay the night before. So that's the most flexible hotel in terms of day stays. Check out the screenshot of the cancellation policy below.
Touch wood.
Actually day stays are supposedly to be flexible… so the ability to cancel easily is pretty important.
Anyhow… life goes on. One year ago, the concept of day stay is so restricted to cheap motel hotels. Now it is available in 5 star hotels. Check out my reviews of day stays in Singapore hotels. Not complaining.
ParkRoyal at Beach Road
ParkRoyal at Beach Road is not exactly a new hotel (The building has been there since I was a baby at this area 40 to 50 years ago !)….. so we should be aware of the limitations of looks and freshness inherent in a building this old.
There is a very good size pool (I am speaking like a real estate agent :p).. but really it is good for proper swimming. You can do full laps here and there is no much guests during weekdays.
With a view of the flyer
And a good size gym..
PARKROYAL on Beach Road Day Stay Room
The reception area was under renovation during my time of visit so it looks a little dull. I hope the new one will be better (I believe it is up and running in April 2021).
A walk to the room shows the "unique" nature of the hotel.. Very classic… 🙂
The room itself is not too bad (I cannot remember if this is a lead in room or a deluxe room). They might have upgraded me to Orchid floor due to my GHD Black status but I cannot remember. Sorry. It has been a while (yes this article is a little late again).
To be honest, my first impression was this is very dated 🙂
A classic MARBLE table. You cannot claim you don't have space to do real work here.
The view.. of Andaz 🙂
And in today's age, we still do have a dining menu. Nice.. better than those "scan this QR code and check out the menu"… I am damn old school. Remember you have 30% discount for the stay.
CARE PACK !!
The toilets are not bad. Clean and functional. In fact very modern compared to the room.
Just like ParkRoyal at Pickering, they are NOT stingy at all with regards to the toiletries. The prize for most stingy toiletries for a day stay goes to Hilton Hotel.
Nepresso ! Nespresso !!
TV channels are important !
Now one thing about ParkRoyal at Beach Road is that they make up for the facilities and the age of the hotel with SERVICE.
A little while after I checked in, they sent up a nice plate of sweet stuff with a nice note. I checked the internet and lots of compliments are given for their service in this hotel ! 🙂
Do remember your complimentary tea !
And my afternoon tea set looks good and taste good !
Conclusion
Good Service. And Value for Money. It is really cheaper than most of the day stay hotels and yet the benefits are quite outstanding. I loved the fact they recognised me as a GHD member while Pickering Road did not even bother.
But, like Pickering Road, the hotel does not recognised day stay as a night stay which makes it not suitable for elite qualifications.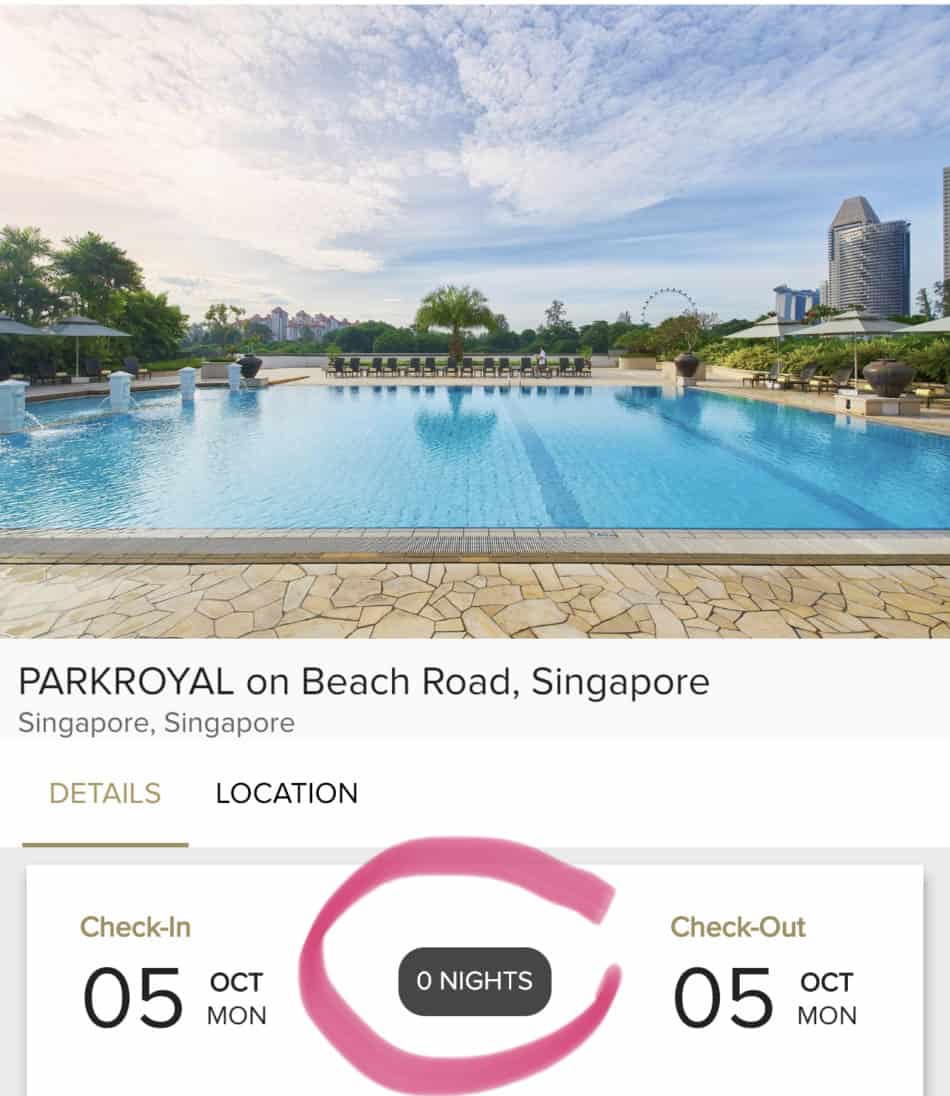 Pity 🙂