Fun Post : Making my own CAT6 extension cable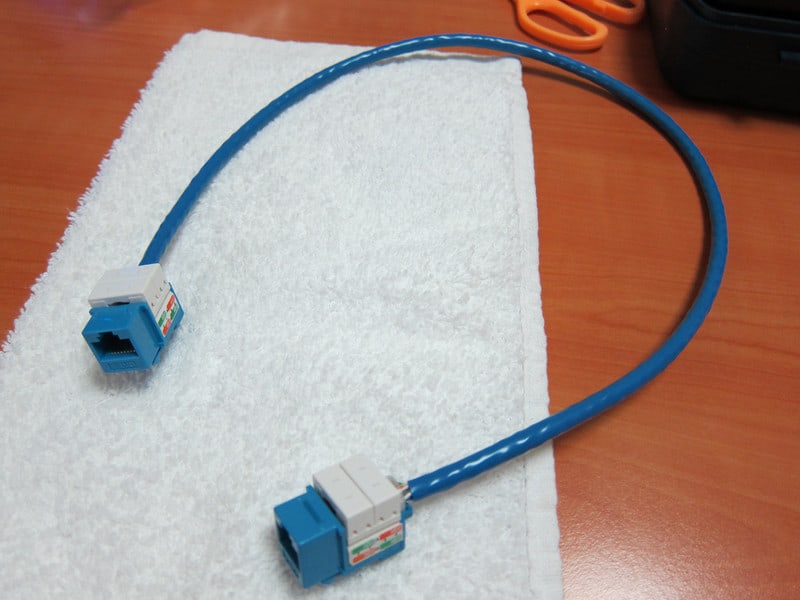 Wanted to try my hand at making a CAT6 cable with punch down keystone jacks that I bought from Monoprice. Using a length of Belden CAT6 cable, the Paladin Tools 70007P Complete Network Tool Kit from Amazon and then countless punch down keystone jacks, I sat down and watched this video from Monoprice…How to make a CAT6 extension cable
After 2 spoiled keystones (one is a CAT5 which I realized too late that i am using, one CAT6 keystone broke after too much pressure from my punch down tool) and tens of wasted inches of CAT6 cables (the strip tool needs to be adjusted or it will cut into the cable instead of just stripping the cover), I finally made one…
The only way to test it is to place in between my router point and my PC (i.e. router -> normal CAT6 cable -> my virgin attempt cable -> normal CAT6 able -> PC) but to my joy, it worked (i.e. there is a connection.. what's the speed ? God knows..).
It is just a way to spend my pre-National Day afternoon when I have no mood to work
Before Punch Down

After Punch Down

Monoprice keystone comes with cover to cover up

My completed cable ! HA HA.

Fitting into a face plate

Colour Code Diagram:
Update: Managed to set it up for testing with the network tester. It works