Oh well, it has to come back home. Not soccer back to England (we heard that so often) but now back watching EPL on StarHub TV+ again.

Table of Contents
For quite a few years, I was really happy to be watching English Premier League on Cast.sg. This is without any contract and without subscribing to some long term mobile phone plans or cable TV plans or fibre TV plans etc.
But that is now gone. At least Cast.Sg. You can srill do cross carriage on Singtel TV even though EPL has come home to StarHub.
EPL has come home
First, the shocking news in Feb 2022 that StarHub has won Singapore broadcast rights for English Premier League in 6-year deal. Shocking as I never thought Singtel will lose this important deal. And even more shocking. Six Years ! I have to live with StarHub for six years !
Why come home ?
Now for those who are very young, you might not be aware. But back then, Uncles like me actually subscribed to something call "Cable TV" by StarHub. It comes in a black box (nope. not an Android box. dont think Android was born then) and works off the ugly coaxial point in your HDB living room.
We used it to watch Chinese TV serials and yes, English Premier League.
Then many years later, Singtel won that broadcast rights and we moved to Singtel. There was all kinds of deals to make you sign up as a package for Singtel Mobile Phone, Singtel Home Line, Singtel Fibre Internet and Singtel Fibre TV etc.
And then there was Cast.sg which I loved. For it was internet based. No contract. Cancel anytime. And most importantly it was available on multi platform. You are not tied to a black propriety box. Or red box or white box.
But. Now we are back to StarHub. So don't talk too fast in life. Never say never 🙂
Subscribing to watching EPL on StarHub TV+
StarHub, of course, launches its (latest) EPL package with a bang, offering Premier+ (that's their EPL package name) to offer some early bird sign up etc. The first day was a mess. People waited hours to sign online.
StarHub Mobile Postpaid, Home Broadband, and TV+ customers can sign up for Premier+ at $19.99 per month (Usual: $24.99 per month). Premier+ is also available as a standalone service at $34.99 per month (Usual: $39.99 per month).
Now as at writing in July 2022, here's the rates for their EPL packages.
Whoever said watching EPL is cheap 🙂 In Expensive Singapore, we are all carrots.
What is most frustrating (to me, from Cast.Sg gang) is that you need to subscribe to a StarHub propriety TV+ box (white in colour now) to watch it on your TV. A rental fee of $5.90/month will be charged for the StarHub TV+ box over 12 months.
There was (keyword, "was") no Android or Apple TV app (unlike Cast.Sg) to watch it on your Android TV. Or Apple 4K TV linked to your 4K TV. You want to watch EPL on your 4K TV ? Sure. Please subscribe to the WHITE BOX
There are (keyword, "are") apps for iPhone and iPad. But no Android TV.
So I had to sign up for the white box. Besides the $5.90, physically it is troublesome. One more White Box means One more power point. One more HDMI point on your TV. And one more network point as who uses Wifi for TV Streaming.
Here is my $5.90 white box.
Problem number 2 was that I also have an Android TV in the bedroom (to which I retire to watch for super late matches, you know.. those high profile matches thet EPL like to show at 2am in the morning, which you will die going to work on Monday mornings..).
That would mean another white box to subscribe to. Another power point. Another HDMI port. Another network point. And another $5.90 subscription.
I was so upset 🙂
But as at today (July 2022), things have much improved.
StarHub, to their credit, has launched in Google PlayStore an Android TV version of their TV+ app.
Great news! StarHub TV+ app is now available for download in Google play store for Android TVs (TV brands such as Xiaomi, Prism, Sony, Panasonic). Currently, this is not available on Samsung TV app gallery but stay tuned to our website and social media channels for new TV updates on StarHub.

I am not sure about whether the same app has also appeared in Apple TV though. Or it is just restricted to Android TV.
That means, I have just wasted my money subscribing to the WHITE BOX. Which cost me $5.90 a month. And one more power point. One more HDMI point on your TV. And one more network point.
Damn. Why I so fast subscribed. ha ha
Watching EPL on StarHub TV+ WHITE BOX
Anyhow here's what my current set up is. There is a white box from our dear StarHub for its TV+ apps. This is linked to my TV via HDMI 3. And yes it is wired to my Netgear switch to my ViewQWest Router. So no free to air channels
Access Free-to-air channels when you get connected with StarHub Broadband and StarHub Smart WiFi router or StarHub Broadband with a Linksys router model, EA7500v2 or EA8100.

https://www.starhub.com/personal/tvplus/box.html
So here's how the White Box interface looks on my Sony 4K TV. Looks so messy but it is quite fast. No lag. And in fact, due to HDMI-CEC, the Starhub box works with my Sony TV remote which is great. One less remote (also in white) to worry about.
You can see there are four favourite channels I already set up. Not sure how many there will be finally but for now, this period (July 2022), I see Premier 1, Premier 2, Premier 3 and Premier 4. Very creative naming from StarHub.
Now I was told that the White Box (see, I could not even find a good name for it) will show the matches in 4K. So far, watching the test signals, I cannot tell if it will be 4K. The box is 4K.
Watching EPL on Starhub TV+ will be so exciting in 4K, right… right.. if i can tell the difference.
There are some testing going on now on Premier 1. Mr Chelsea Defender is so cool.
Watching EPL on StarHub TV+ Android TV App
Now on the same Sony Android TV, I can now download from the Google PlayStore the Android TV version of the StarHub TV+ app. It was just made available a week ago… thank you, StarHub.
And install it…. of course it has to sit next to the Cast.Sg App 🙂
The interface is slightly different from the WHITE BOX… the menu is on the left. And it is laggy. Not a lot but still frustrating enough.
But you can watch the same 4 channels (except a favourite on the white box is not "copied over" to the app.. so you have to set it up again. But that is fine. First world problem).
And the same Premier 1 channel is watchable now on the Android TV app. But ya.. Mr Ronaldo is unhappy (as usual)..
One thing is I do not have one of those Android boxes like a Nvidia Shield or those China made Android boxes (aren't they illegal now ?). I believe these come with Google Playstore so you can install the same app and hence don't need that $5.90 white box.
To watch EPL on your TV.
Watching EPL on Android TV in the Bedroom
Because StarHub was nice enough (grin) to release the Android TV version of the StarHub TV+ app, I can now install that app in the bedroom's Sony Android TV. Without the need for another power point. Without the need of another HDMI port. Without the need for a network point. And without the need another subscription to a white box. Just like Cast.Sg.
Thank you StarHub. I kiss you, OK.
Liverpool…… in my bedroom… poor guys, only win two trophies in 2021/2022. Hope you can win EPL in 2022/2023.
Watching EPL on StarHub TV+ iPhone App
Yes.. like Singtel Cast, the StarHub TV+ has always been available on iPhone so you can watch the match in the comfort of your bed or cafe.. or in the grab back home.. or in the park.. as long as you dont mind your 4G or 5G usage.
Here's the interface.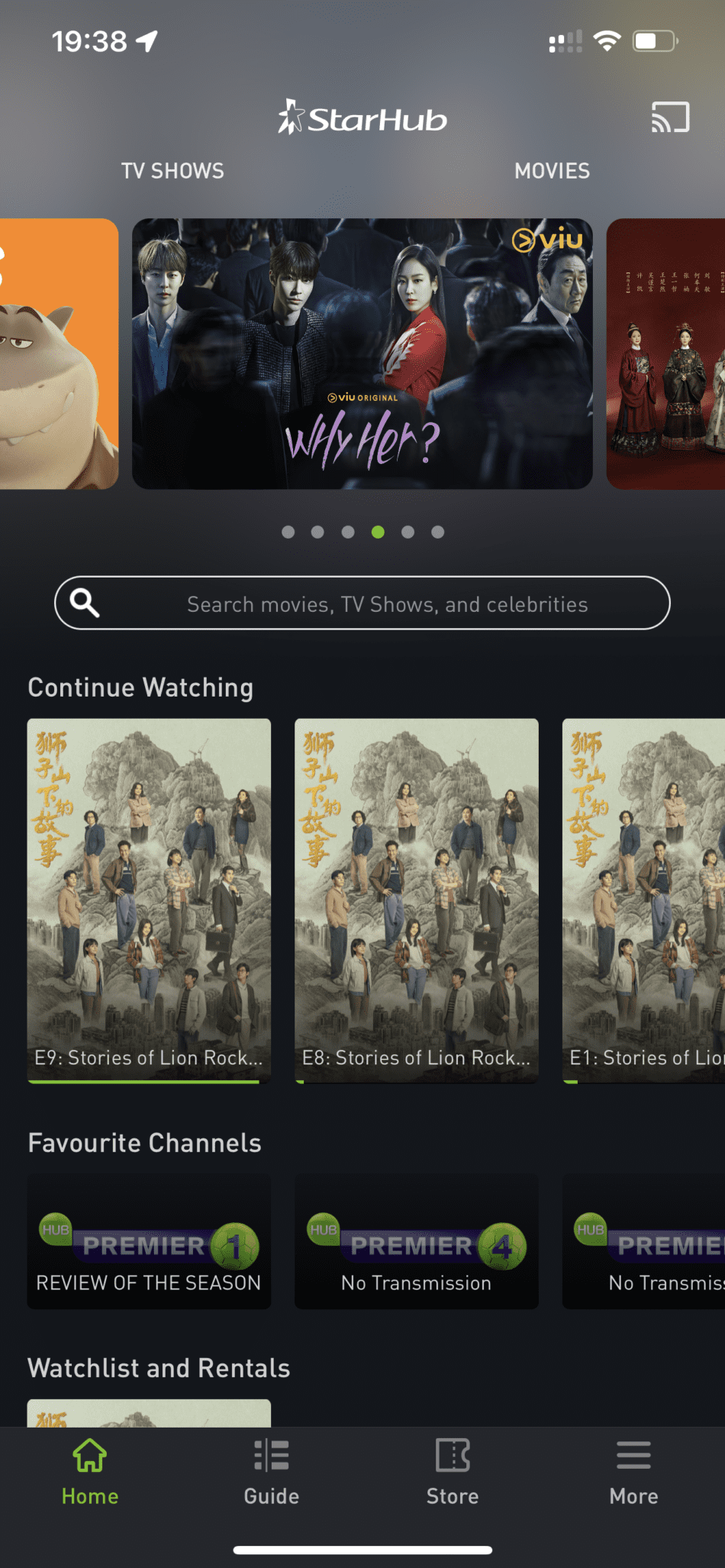 And here you go…. Watching EPL on StarHub TV+ iPhone App… Mr Gerrard.. How did his Villa lose their last match against Man City is beyond me. He could been a Liverpool Hero that day.
Watching EPL on StarHub TV+ iPad App
Similarly, you can download the StarHub TV+ app in iPad and watch your EPL from the comfort of your bed. Or sofa. Or hostel room. With wifi.
You like my iPad casing ? 😉
Conclusion : Same same but different
So now we are back to StarHub for English Premier League. Just EPL. No League Cup. No FA Cup. These remains in Singtel. Which means another subscription if you want to stay on Singtel to watch those. And what about Champion League. What about other leagues… sigh… I still miss my Cast.Sg subscription.
Luckily just for EPL, we do have an Android TV app so that would make it, just like Cast.Sg, a multi platform viewing experience. On Android TV. On iPhone. On iPad. And now on White Box. But no, I will not subscribe to anything else on the StarHub TV box. Or a StarHub mobile line. Or a StarHub Fibre internet etc. I do not use any StarHub services. I was forced now.
And yes, you can cancel Premier+ anytime too as there is no contract. The White Box came with a 12 month subscription though. Sigh. But you don't need it if you have an Android TV or Android Box.
Six Years is a long time. But hope we have a good time with StarHub over the next 6 years then. Who knows ? So far so good to be honest.
In the meantime, looking forward to yet another season of English Premier League.