Networking for Singapore BTO Flats
This article on "BTO networking" is one of the most popular blog posts on this web site. If you also find this useful, please kindly share this blog post on your Facebook with this button. Thank you 🙂
Table of Contents
A few years ago, I wrote about how I set up my home network with the laying of CAT6 cables, RJ45 keystones and patch panels etc. You can read about them here and here 🙂
When I did up my home network at that time, I had to lay CAT6 network cables in casing all over the home and let the renovation contractors lay his cement and flooring over the network.
Networking in Singapore new BTO Flats
But nowadays, it is NOT necessary as many BTO flats come ready with networking inside the new HDB BTO flats!
They are almost ready though as some work are needed to complete the deal.
Recently I have the opportunity of doing up the network for a new BTO (Build to Order) flat in Sengkang/Punggol area in Singapore.
These recent flats actually came with network cables lay all over the home already. Yes, they are already nicely set up for a home network with CAT6 cables. Wow. Impressed with HDB.
The only issue ? The catch ?
Well there are 2 issues:
(1) The network was not laid with data network in mind. It was laid for a telephone network. Every room is cabled up but yet they are all terminated with a telephone jack and not a network RJ45. This is how it looks.
Ancient people like us will know this is for use with our land line telephone. Younger people will go like "huh ?" 🙂
To be fair, there is a data point but only one and it is at the living room area where the TV usually is. This is how it looks. No problem here. But one data point is hardly enough in this age of Netflix, Disney+, HDB Go, Playstation 4, Xbox One etc. Nope. Not enough 🙂
(2) The network points end points are housed in an utility cupboard where the fibre optic ONT point is too.. which is great as you can very easily then connect the fibre optic to the network.. Except they are all hidden and not available to use easily.
This is how it looks when it is opened:
And to be fair, this is BRILLIANT compared to the older flats. You even have the Fibre Optic internet point already in place and they have thoughtfully placed a power point for your router and even a big enough space for the router to be wall mounted inside.
Basically you are ready to go to have ONE (1) data point at home. Most people will end up using wifi then. But this is such a waste as the whole flat is actually wired up with CAT6 but only 4 wires are used up for telephone. It is a waste. So let's do something about it.
Upgrading BTO flat network to CAT6 LAN network
So I decided to redo the network to the whole place to be data network ready. To do so, rather than trying to do it myself, I engaged the services of an external company. It is easy to find one nowadays in 2020.
The steps are:
(1) Replaced all telephone points with RJ45 keystones and convert the telephone points to data points.
The sharp eye in you will notice that this is a CAT6 cable but only a few wires are used for the telephone. The rest are just lumped up and kept. So this step is to remove the telephone jack and use up all the 8 wires !
And the face plate:

Tata.. I converted all 5 telephone jacks in my 5 room HDB flat to all data points. Dining Room + 3 Bedrooms and yes, even the Bomb Shelter room. HA HA 🙂
(2) Next, we worked on the utility box and converted it to a mini network patch panel area 🙂
The trick is to open the top left box where all the cables are kept.
The cover.
The behind of the cover.
What's behind the box… all the cable ends points ! Currently they are ued as telephone lines now ! We are going to change that !
And next we have to pull out the cables and find the RIGHT cables (there are some spare ones). We also need to relocate (moving one of the cable) to the lower right part as he has a faceplate for 4x RJ45 but I have 5 telephone points.
So we need to use 4 on the top left and then 1 on the bottom right. You will understand when you read on 🙂
Each cable has to be painstakingly converted to a RJ45 keystone:
Finally when completed, he did the testing using a network cable tester. His is so much more complicated than mine 🙂
You can get one quite cheaply at Amazon site. For example, try this Jakemy JM-468AL JAKEMY JM-468AL RJ45 RJ11 Network Cable Tester Networking Tool.
It does not matter that you outsourced the work to someone else. I found such tool quite useful for troubleshooting networks later at home and at new condos TOP checking. Many new condos (besides HDB) now also comes with built in networking. In fact, recently, I used it to check how the network set up in a new condo is properly working for a client.
So you are not just buying this for a one time use 🙂
Very good piece of mind when saw the testing results ! HAPPY LIKE MAD.
And now it is all done up ! 6 points in all. 6 points in a nicely done patch panel "look alike" 🙂
How does my BTO network look like after the changes
So these are my 6 points:
Left top box
1 : dining room
2 : common room 1
3 : common room 2
4 : store room (where I am going to fix a network printer for the whole family to use)
Right bottom top
5 : master bedroom
6 : living room (the original only data network point)
This diagram will make it clearer
My thoughts on how the BTO networking upgrade went
(1) I think the price is very reasonable compared to all the hard work if I have to do it myself (not to mention, I am not very good at it when I am now older. When I was younger, I did my own networking patching here and here). You can easily find good companies who do such work today. I noticed during key collection time for new HDB BTO flats, flyers are aplenty for such companies too 🙂
However if you want to do it yourself, you can get a tool kit from Amazon or Sim Lim Square shops. And some research on the correct RJ45 set up on the internet will be all that is needed. And oh yes, some nimble fingers 🙂
(2) Do not use the wireless fibre optic router that will be placed in the utility point. Instead, switch off the wireless of that router and use it only as a router. Why ? Cause the utility cupboard is closed by nature and very far from the bedrooms. So the wifi coverage will be bad. Instead, buy another wireless router (e.g. Like this Asus at Amazon) and use it as a WIRELESS ACCESS POINT (note, not a router.. but as a WAP).
Place that router in one of the bedrooms (preferably the ones in the middle of the house e.g my case it is Common Room 1) and plug a network cable from the "telephone point-become-network point" you have paid to convert into the WAP and ta ta, you get greater coverage 🙂
This diagram will help explain my own layout. From the original patch area near the door, I use the network point at common room 1 to provide the wifi coverage for the whole house.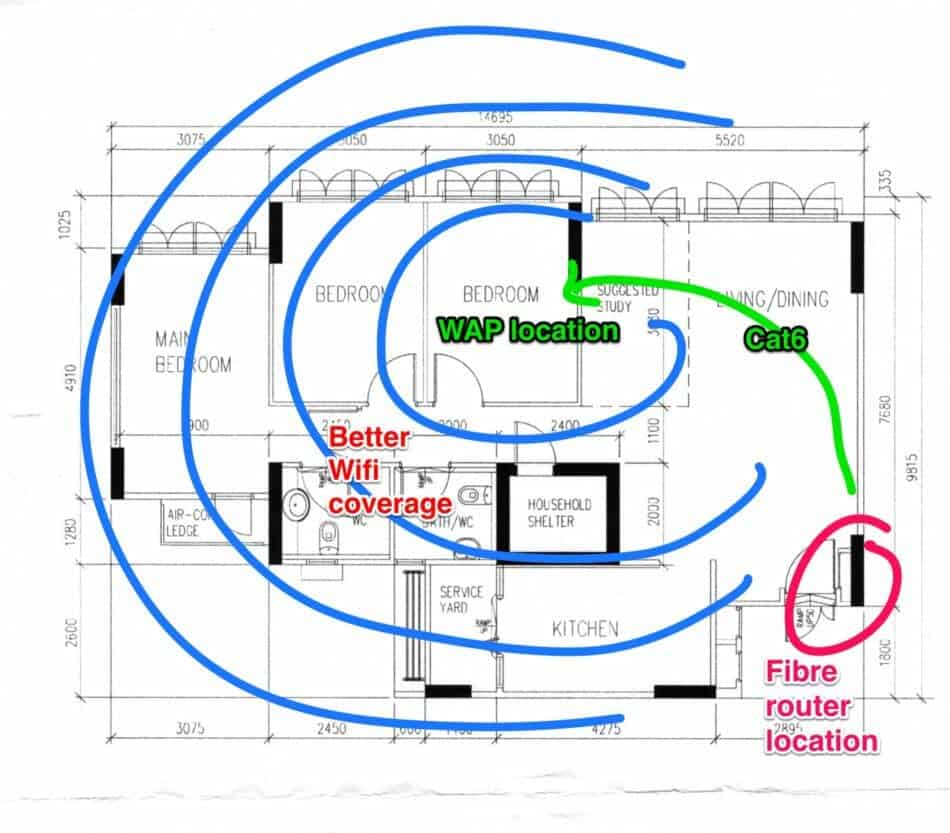 (3) Consider using the store room as your IT centre … I am going to fix a network printer for the whole family to use.. Some people place their NAS here too.. Like my Synology DS1813+
(4) Do these before the renovation starts (or after you have discussed all your telephone/network needs with your renovation designer.. their carpentry might affect the location of your RJ45 points as well as the painting of the house might want to be take place AFTER you changed the point. Also consider all your networking needs (E.g. which rooms might be your entertainment room, do you need network for your bedroom TVs etc)
(5) Lastly, changing the telephone points DOES NOT make it not possible to use a telephone point ! In fact, it makes it even better. Usually we use a DIGITAL VOICE now and that comes from the router in the utility box. So that means that we can just connect a telephone line from the Router to the exact LAN point where you want the phone line to be. For example, you might want to place the phone in your study room and just plug a phone line from the router to the LAN point stated as "study room" in the utility room. At the other end, in the study room, the LAN point can just plug in a telephone line to the telephone 🙂 But that also means you gave up a LAN point, yes ?
How does my network lay out look in BTO networking
By popular demand, readers are asking how this looks AFTER i set up ? Okie here's how it looks with the ViewQWest fibre optics set up and cables running to the points:
Do share with your friends who just bought our most amazing BTO flats :p