RTHK 同里有親 Walkthrough Part 2 and TVB 單戀雙城
September 26, 2014
32 views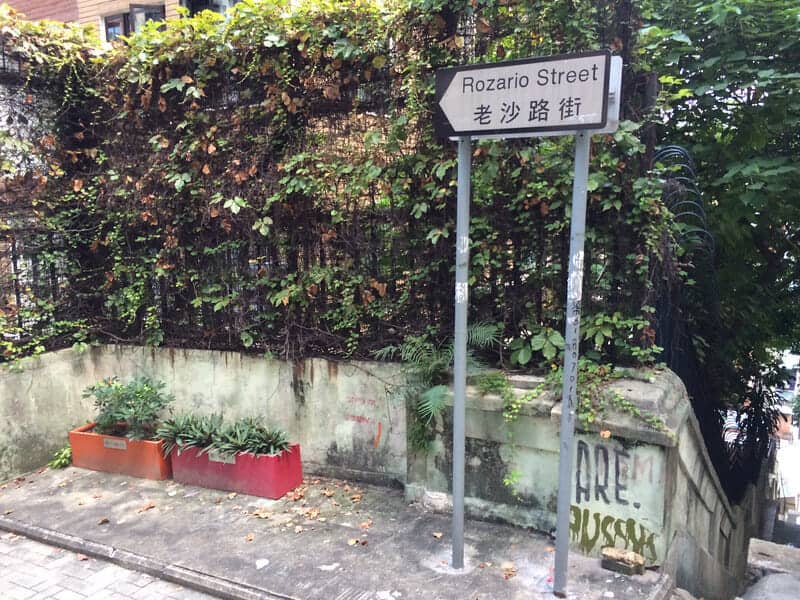 Let's carry on our journey through the neighbourhood of 同里有親 (from Part 1) and towards the end of the walk, you can even reach the filming locations of TVB 單戀雙城 too!
The map again:

We walk back through Wing Lee Street back to Point (5)
(5) Rozario Street. This is the place where the old lady (whom later passed away in the serial) has a chair of her own and she always sit there.. Remembering this place as the place where she met her husband.
In The TV:

In Real Life:

(6) Walking down Rozario Street, you will come to yet another highly filmed area in the show. Po Hing Fong. Po Hing Fong is also where the Blake Garden is. This garden was the place where the actors/actresses train for their staircase event. Nice place in the late morning. Visit it to enjoy the tranquility of Hong Kong !
In the Serial:

In the real life:

Walking down Po Hing Fong, you will see the store where CIA (a character in the show) asked the shop keeper to keep the toy.

(7) Walking down Po Hing Fong and reaching the end, you will reach the "Upper Station Street". Interesting name. Not a STREET. But a flight of very high staircase again !!

In Real life !

TVB time ! TVB time ! 🙂
This is also where TVB show, 單戀雙城, is at. 單戀雙城 is at Sheung Wan (and Malaysia's Penang) where pretty 陳茵媺 (her role in show is 羅式適) stays… They are on this side of Sheung Wan (as compared to 同里有親 which is more on the left side of Sheung Wan).
in TVB Show:

In real life:

(8) Walking up, you will reach the location of the house of 羅式適. Tai On Terrace. Where she stays and the outside where she and 陳展鵬 have many romancing scenes 🙂
TVB Show:

Real Life

So happy to be here… As usual… 港劇迷朝聖地 !!! 🙂
We will be walking to point (9) which is a nice Cha Chaan Teng 茶餐廳 called 科記咖啡餐室 to be covered in the next blog post. Read it here.
As we walk towards 科記咖啡餐室, you will see these nice touches on the handrails on the staircase. Hong Kong people are so cool and so wonderfully socially aware.