How to subscribe to watch EPL without MIO TV or Starhub
(Updated July 2022 : All good things come to an end. EPL has moved to StarHub. So here's a new article on my watching EPL on StarHub. You can still do cross carriage with Singtel though if you want to stick to Singtel. But not Cast.Sg. That's no more)
It is the time of the soccer season again. It is time to decide how you want to watch the English Premier League (EPL) Soccer matches "live". So how are you going to watch EPL in Singapore in 2019 2020 ?
Are you using SingTel MIO TV or are you still on StarHub TV, which can show EPL matches due to the BPL Cross Carriage deal in Singapore. Or are you watching online (legally or illegally ?) 🙂
The English Premier League, itself, is scheduled to kick off the 2019/2020 season on Friday, 9th August 2019. On that day, Liverpool, last season's runner-up, will kick-off the English top-flight season when they host Norwich City at Anfield.
The 2020/2021 season started on 12th Sep 2020, after a short break from the COVID-19 affected 2019/2020 season. Liverpool was the runaway winner last season. They played Leeds, the newly promoted team.

This season, the first match was at 7:30pm Singapore time between Fulham and Arsenal. Arsenal won that match 3-0.
In Singapore, watching EPL matches are a part of life, especially the big matches between Man City, Liverpool, Man United, Arsenal etc.
How do I watch EPL matches without MIO TV or StarHub TV
For me, it is my greatest weekend pleasure. But I don't use SingTel MIO TV as I don't even have a SingTel fibre subscription and I don't need the rest of the MIO TV channels that are usually forcefully bundled as a package with fiber subscription. I am also no longer subscribed to StarHub TV either when they moved to fibre-based connection. And hell, for that matter, I don't even watch Mediacorpse (no spelling error there at all) TV channels. No need for their pro-government-licking-ass nonsense.
Instead I turned to the Internet. But legally 😉
For the past season, I have been watching EPL (and in fact, the FA cup matches and sometimes, even English championship matches) using a service provided by Singtel (I know, the irony). It does not require a contract to SingTel (yes I know, surprisingly for them) and you can subscribe on a month to month basis (most important !!). And it is multi devices capable service (supporting Android and Apple devices). And you don't have to be a Singtel customer at all.
Enter Singtel Cast Sports Plus Service
The wonderful service is called "SingTel Cast Sports Plus". It costs $49.90 per month. There is no contract and it is not restricted to EPL either. There is the German Soccer League, Tennis, Golf and whatever sports they want to put into this service. But the star of the service is still the English Premier League 🙂
I love the fact there is no contract. Eg last season, I stopped at end of May as the season came to an end and I will resume at start of Aug for the new season. In between, I paid nothing as I have already left the service. I just need to sign up again in August 2019 when the 2019/2020 season starts again.
This season. I signed up on 10th Sep, a few days before the season started on 12th September 2020.
Multi Devices Support for Singtel Cast
You can watch the matches on Android TV, Apple TV, Apple iPad and Apple iPhones. Singtel has also provided a list of devices that CAST can work with. Check out this link.
I noticed two things this year. First is, they now have a contract model (12 months contract with three months free) and thankfully, there is still a no contract method. I will stick to the latter. Second is that there is no mention of FA Cup and English Championship in the landing page, so are these going away ? I will watch out 😉
How to subscribe to Singtel Cast Sports Plus
So how do you subscribe ?
Go to the SingTel Cast Sports Plus link. Even though I have a SingTel phone line, I always choose to use the non Singtel customer method and hence paying via a Credit Card.
You will need to set up a CAST ID. This is because you will be using this ID to log on to the CAST app in Android or Apple. That is your log on ID for the devices you are going to watch the soccer matches on.
And then you choose the Sports Plus package which cost $49.90 per month.
There are also other cast packages (eg Cartoon packages or Korean drama etc) but I think you get better value if you get those through SingTel Phone subscriptions as they come with free months.
Supply your billing details including your credit card and you are done. And you have to wait half an hour for activation (according to the landing page confirmation).
You should receive an email confirmation and a SMS too.
You can cancel anytime from the account page or even the landing page itself without going to the account page. It works. I have cancelled before 🙂

(Update : May 2020): During the sad months of Covid-19 where basically all English Premier League matches were suspended, I also cancelled my CAST subscription to the sports package. There is no contract and hence no issue. When and IF EPL is back, I will re-subscribe again.)
(Update : Sep 2020) : Yes, I signed up for 2020/2021 season. Empty stadiums or stadium with fake paper spectators or not, I am watching.
Download the CAST app and use it on multiple devices
You can now proceed to download the Singtel CAST app from Android Google Play store or Apple App Store.
For me, I installed the Singtel CAST apps on my Sony Android TVs. Both in the living room and in the bedroom. This allows me to watch live English Premier League Soccer matches on my 65 inch Sony Android TV or my bedroom's 43 inch Sony Android TV. (When buying a Sony TV, it is important to go for those who stated that it is an Android TV so that you can download the CAST app).
Obviously your Android TVs needed to be connected to the internet (for best performance use a Ethernet cable to a LAN point).
You can also cast the app to TV through the two casting buttons.
For example, I am now watching the second match of the 20/21 season on my Sony 65" Android TV using the CAST app
If you don't have an Android TV, and have an Apple TV, SingTel cast is also available on Apple TV store.
Or you can set up on iPad Pro and iPhone and make use of WiFi (or even mobile data plans) to watch the EPL matches. Just FYI that I am on ViewQwest Internet plans so you don't need Singtel Internet fibre or Singtel Mobile plans.
Watching CAST on desktop and laptop
For completeness, I did not know this until recently. By the kind folks in hardwarezone forum, I found out that you can watch CAST in your desktops and laptops without an app. You just need to go to https://cast.sg and log in and you can then watch the channels. This will not work on iPad etc
Example of using my MacBook Pro to watch cast.sg
Let's start watching some Soccer Matches now on Singtel CAST
So you can log on to the app and you can see this welcome screen. You can see some of the soccer channels you can watch. There are even some free Chinese movies and Chinese variety shows.
Go to the menu and then click on my videos. With that, you can see ALL the channels you can watch as part of your sports plus subscription.
All the EPL channels are right at the top (MIO stadium channels) but they are all not live yet as season has not started. On a match day, especially Saturday 10pm when there are multiple matches going on, all the channels will be available for you to choose a match. You might not always want to watch MU or Liverpool. Don't worry. Newcastle and Bournemouth are also available 🙂
But tonight, I know the English Championship has started its first matches. It might not be obvious but I can see the English Championship channel in the middle…. the often neglected part of this screen…..
So I clicked on it and welcome back to the world of English Soccer !!! There is a live match between Barnsley and Fulham. Poor Fulham. Relegated to Championship after one season in EPL and already losing their first match. Sigh.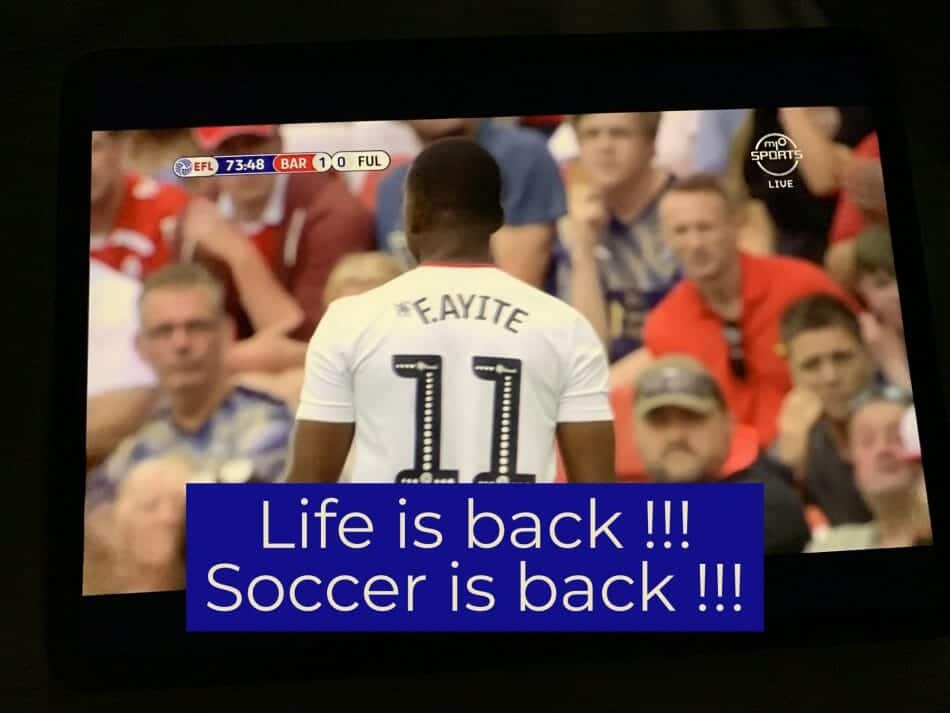 The match between Fulham and Arsenal was the first match for 2020/2021 season !!

You can find a few more controls such as resolutions control (lower to the resolution to save some data usage) and whether you allow the app to use your mobile data plan at all.
You will notice a "Link TV" button. It allows you to easily set up the SingTel Cast app on your TV AFTER you already signed in on your iPhone Cast App. No need for logging in twice.
Conclusion of Singtel Cast sports plus
So there you are…….. the easiest way to get to watch EPL Soccer matches (without a contract to MIO TV or Starhub TV).
No contract. No bundled with fibre Internet nonsense. No forcing me to subscribe to things I don't want.
Multiple devices support. Watch soccer on your TV. On your iPad. On your phone.
All for $49.90.
I think this is the best legal way to watch EPL matches in Singapore. My view 🙂