Hong Kong Wisdom Path at Lantau Island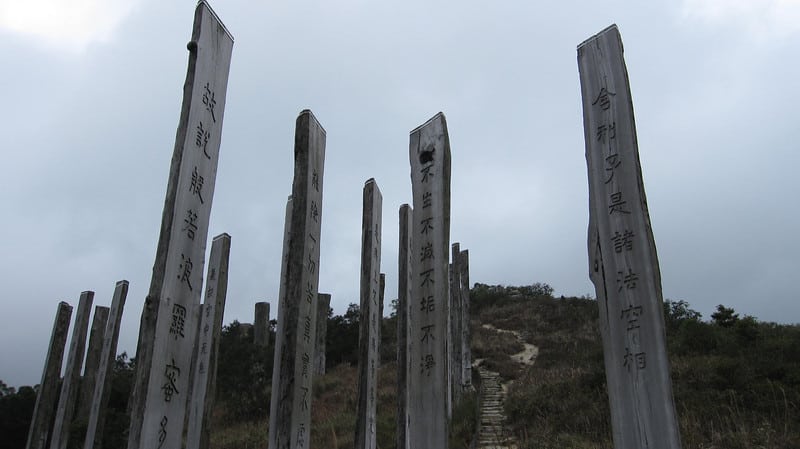 If you ever go to Lantau Island, you will see the Ngong Ping 360 village as well as the Giant Buddha. However, it is easy to miss the Wisdom Path. You should NOT miss it as it is a very unique place that will bring peace to your mind, learn something new about Buddhism and finally it really is a very pretty place.
An outdoor wooden replica of the centuries old Heart Sutra. Made up of 38 wooden rectangular beams which together form a shape of infinity sign. Each beam has a portion of a 260 word prayer inscribed on it.
At the foot of the Giant Buddha, look for signs that point to the Wisdom Path

It's a very scenic walk of about 15mins that will bring you deep into the trail to reveal a mountain scenery of peace and tranquility.
The views around the Wisdom Path area is very fantastic. There is a tall mountain facing the Wisdom Path. You can also see the Giant Buddha from the Wisdom Path too.
Of course the star of the Path are the 38 beams of the Heart Sutra:

It is really worth the walk to the Wisdom Path. The weather was really cool when I was there and when I was there, I felt like reaching a paradise (really.. cause the place was quite misty… grin). Pictures looked so good with the misty cloudy mountain as the backdrop.
Anyway, I really recommended you to take this walk to Wisdom Path when you are at Lantau Island. Don't spend too much time at the 360 Village which I find too commercialized. Wisdom Path and the Giant Buddha and a good vegetarian lunch at the temple are THE 3 important attractions to visit at Lantau Island.